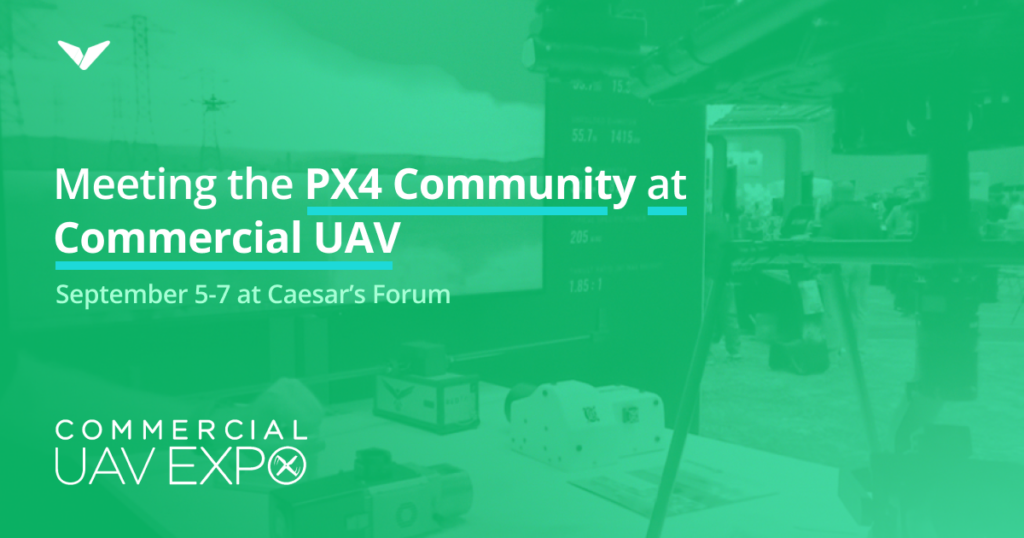 For years now, the Dronecode team has regularly attended the Commercial UAV Expo in Las Vegas. We travel to the event annually to take advantage of the opportunity to meet the PX4 community in person and foster direct connections with members, maintainers, and other ecosystem players face-to-face.
We've partnered with Commercial UAV Expo once again this year to co-promote each other's events, and we are looking forward to attending once again. If you want to meet us there this September 5-7 at Caesar's Forum, you can use the code SAVE100 for $100 off a conference pass or a free exhibit hall pass!
At this year's show, you'll be able to see some great firms showing off amazing hardware built on top of open standards. Freefly Systems, Sony, Watts Innovation, and Wingtra all utilize PX4 or the Pixhawk standard and have booths at the show. You may even see the Dronecode Foundation's General Manager, Ramón Roche, walking the floor and interviewing innovators from every corner of the industry.
Conferences provide an unrivaled opportunity to get face time with leaders in the space, whether it's during the sessions or in the exhibit hall. Last year, Ramon interviewed Bobby Watts, CEO and Principal Engineer of Watts Innovation, while at the event, and Bobby was kind enough to share the entire origin story of the company and the reasons why they adopted PX4.
The commercial drone sector never stops evolving, and Commercial UAV Expo provides one of the best chances to see the next generation of UAS technology hitting the market. In total, it brings together 250+ vendors providing solutions for fields as diverse as agriculture, construction, surveying and mapping, infrastructure inspection, and public safety. If you're an engineer or company looking to meet your end-user, this is the spot to do so.
It's certainly going to be an exciting fall event-wise for drone developers. We hope to see you IRL at the Commercial UAV Expo this year or this October 21-22 in New Orleans at the PX4 Developer Summit.