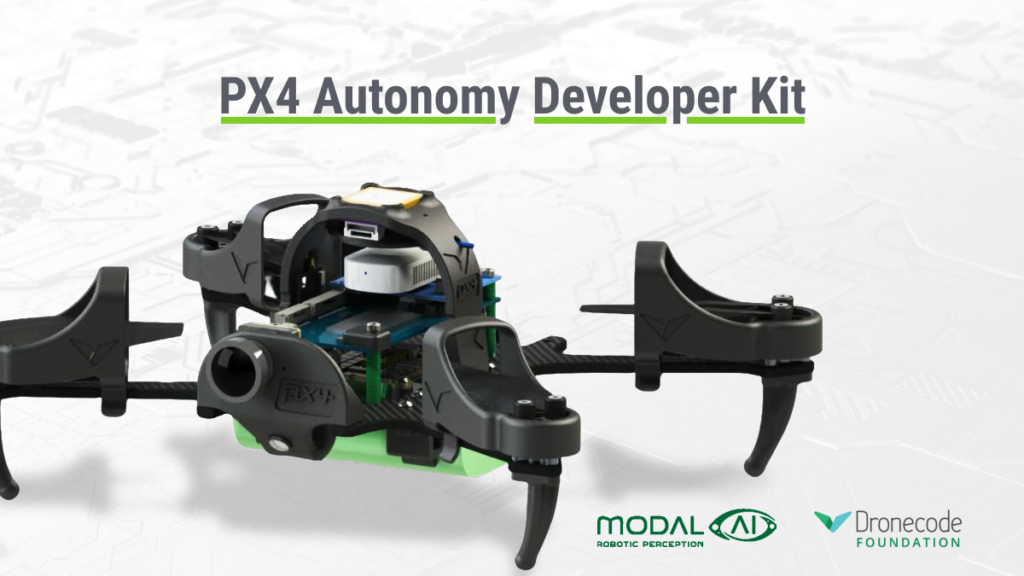 The PX4 Autonomy Developer Kit by ModalAI, Inc. is the latest development kit for the PX4 Autopilot, tailored for those at the forefront of autonomous navigation solutions. Powered by the industry leading VOXLⓇ 2, the kit offers a ready to develop UAS for GPS-denied navigation and aerial AI development, ensuring high performance and seamless integration targeted for the PX4, ROS, and TensorFlow communities.
The Autonomy Kit was meticulously pre-configured with Size, Weight, and Power (SWaP)-optimized sensors, ensuring developers have the best tools without exhaustive customization. Whether the task involves developing navigation for intricate indoor spaces or vast outdoor terrains, the PX4 Autonomy Developer Kit by ModalAI is built by and for developers to handle the challenge.
Developers will be able to harness the latest PX4 Autopilot changes, thanks to ModalAI's commitment to supporting PX4 upstream, which means you can run the latest and greatest contributions, making it perfect as a fast prototyping developer kit bundled with the newest sensor suite. This integration promises sustainability for current projects and paves the way for future innovations.
In collaboration with the Dronecode Foundation, the Autonomy Kit provides a ready-to-fly development platform that bridges the gap between PX4 and ROS, made for those looking to push the limits of autonomy and significantly improve their time to market.
The base model features an impressive 30+ minutes of flight time on a 210mm airframe weighing only 265 grams. The Autonomy Developer Kit also houses a 12.3 megapixel SonyⓇ IMX412 sensor, VOXL ESC Mini, and an STM VL54L1X Rangefinder landing sensor—just what you need to succeed in your PX4 development journey.
"Since its founding, ModalAI has been committed to advancing the computer vision capabilities of the open source UAS community," said Chad Sweet, CEO and co-founder of ModalAI "We expect the PX4 Autonomy Developer Kit to significantly accelerate that mission."

Chad Sweet, CEO and co-founder of ModalAI
"Easing the journey into aerial robotics development is one of the largest barriers to growing the ecosystem. Developers are constantly faced with many challenges while getting projects off the ground such as choosing components, determining software support and dealing with the constantly evolving codebases. The field is ripe for vendors to target the ever-growing developer workforce in the drone industry," said Ramon Roche, General Manager of the Dronecode Foundation. "The Dronecode Foundation is excited to welcome the PX4 Autonomy Developer Kit to the PX4 hardware ecosystem, helping bring down the barrier of entry for newcomers getting started in aerial robotics with an RTD (Ready to Develop) option backed by ModalAI."

Ramon Roche, General Manager of the Dronecode Foundation
The Dronecode Foundation and ModalAI plan to offer and support this configuration at least through 2025, supporting PX4 and ROS 2 and maintaining a dedicated forum channel for direct communication between developers and ModalAI engineers. The new PX4 Autonomy Developer Kit is available to order beginning today starting from $2,749.99 at www.modalai.com/px4-autonomy-dev-kit